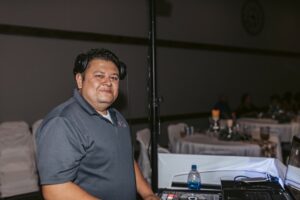 Alex - DJ/Owner
Alex is the owner and one of the DJs/MCs of Nota - DJ Services
Born and raised in El Salvador, CA, Alex has knowledge of the Hispanic culture and can provide a whole night of dancing no matter the audience.
Nota DJ was beyond what we would've ever expected for a DJ. We've been to several events where the DJ does his own thing and it doesn't flow or is honestly too involved. Alex was absolutely amazing, he worked with our vendors, crazy moms and made sure everything went smoothly. Everything we requested was played & the guests loved his energy! The photo booth was also a huge success & I couldn't be more happy with this company. Would 100% recommend them for any event. We are so blessed to have found them & can't thank them enough for the amazing work they did. 10/10!!!
Danielle  & Nathan Somsky 10/16/2021
Schafer Barn on the Hill - Adair, IA
Dave - DJ/MC
Dave joined the Nota team 4 years ago. Dave has over 10 years of experience in the entertainment business, from being part of a local band to DJ weddings and provide entertainment for all kinds of celebrations.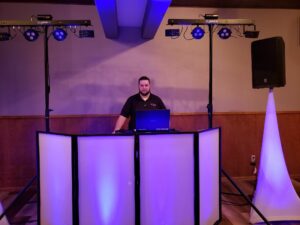 I cannot recommend these guys enough! We had Dave as our DJ for our wedding on October 2. I was a little nervous about the sound as our wedding was in a large tent with no sound system at all but the music sounded great all night! We had NOTA do our sound for the ceremony as well and that was great too! Everyone could hear and people close weren't getting blasted with too much sound either. We had a lot of last minute changes (due to rain & moving the outdoor ceremony into the tent) that Dave handled seamlessly and he kept people on the dance floor all night (literally- I think he stopped playing at 2:08 am!). Wish we could do it all over again!
Nick & Natalie Sullivan 10/02/2021
Sullivan Farms - Dunlap, IA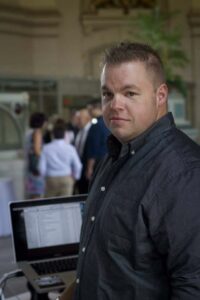 Craig - DJ/MC
Craig knows how to keep the party going and maintain the dance floor packed all night. Craig became part of the team in 2019 and had been part of the wedding industry for over 5 years prior to joining the team.
Nota - DJ Services played at our wedding on May 8 at the 1868 Farmhouse in Boone, Iowa! They were super easy to work with and Craig was so flexible the day-of and made things go super smoothly! Neither my husband or I were picky on the music he played and what he did play was awesome! Highly recommend!
Breanna Kroeger and Matt Brown 05/08/2021
1868 Farmhouse in Boone, Iowa
Ready to start planning your dream day?
You will be the star of the day, and we are ready to help you make it happen!